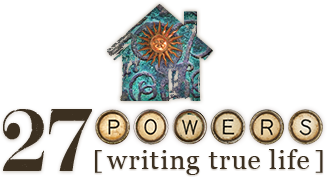 Rosemerry Wahtola Trommer & Laurie Wagner
Writing Into Paradox
The poet, Mark Nepo writes, "life is so beautiful and I am so sad," two truths that seem impossible to exist together, and which describe the paradox of our lives. And when the writer Deena Metzger asked me what I wrote about and I said, "Beauty, but it isn't always pretty," she said, "Beauty rarely is."
We live in a paradoxical world, and are being asked more and more to hold the complexity of these times; natural beauty meets climate change, meets wars and newborn babies, and everything we hope for meets everything we fear. How as people do we make sense of these opposing truths? How as writers can we expand the way we hold these realities so that we can write into their complexity and represent the world as it is, with eyes wide open?
It is our pleasure to welcome poet, Rosemerry Wahtola Trommer, a writer who knows how to host the most vibrant kind of love, hand in hand with the deepest grief. This has made her one of the most holy poets that I know, a woman who writes to understand and to survive. A poet who asks, what does this life, this poem have to teach me?
In our session, Rosemerry will talk with us about:
Why poetry and all of our writing need opposition.
She'll teach us how to use paradox in our writing so that we can face the page in a more honest, more complex way, and so we can write about what it really means to be alive.
We will look at examples of paradox in our work.
Rosemerry will lead us into some writing that invites us to see the complexities in our lives and bring them alive on the page.
The effect of paradox on the page and in the body is spaciousness. In the poem it says, this is how it is to be alive.
I hope you can join us for this rich session with the marvelous Rosemerry Wahtola Trommer.
Photo credit: Joanie Schwarz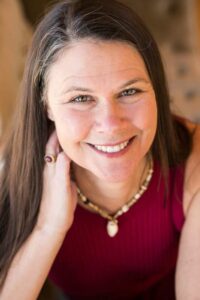 Rosemerry Wahtola Trommer
Rosemerry co-hosts Emerging Form (a podcast on the creative process), Secret Agents of Change (a surreptitious kindness cabal) and Soul Writer's Circle. Her poetry has appeared on A Prairie Home Companion, PBS News Hour, O Magazine, American Life in Poetry, on Carnegie Hall stage, and on river rocks she leaves around town. Her collection Hush won the Halcyon Prize. Naked for Tea was a finalist for the Able Muse Book Award. Rosemerry has been writing and sharing a poem a day since 2006. Find her daily poems on her blog, A Hundred Falling Veils, or a curated version (with optional prompts) on her daily audio series, The Poetic Path, available on your phone with the Ritual app. She is the author of Exploring Poetry of Presence II: Prompts to deepen your writing practice, and her poetry album, Dark Praise, explores "endarkenment," available anywhere you listen to music. Her most recent collection is All the Honey. 
Live Online :: Rosemerry Wahtola Trommer & Laurie Wagner
Please note this is the replay video of the August 2023 live class.
I'm excited to be partnering with Chapter 510, a nonprofit group in Oakland serving black, brown, and queer kids, ages 7- 18.
 Chapter 510 is a writing, bookmaking & publishing center that wants every young person in Oakland to write with confidence and joy. Chapter 510 believes that writing is an act of liberation, and that young people transform themselves and their communities when they write and get published, succeeding in work, school, and life. 
A portion of the proceeds from this event will go to supporting their free creative writing programs for black, brown, and queer youth.