If you're like a lot of people…
You mean to write, but unless you're in a class or have a writing deadline, suddenly the whole day has disappeared and the writing never happen. On top of that, most of us have a nasty little voice in our head telling us what our writing should sound like and whether it's any good – voices that make it virtually impossible to 1) have a good time writing, and 2) get any ink on the page.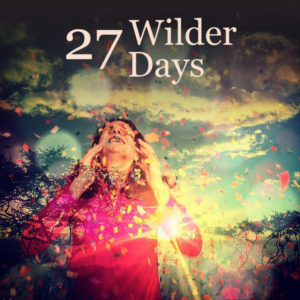 Over the last 25 years I have made it my business to find ways to cut through that tangle of crap so that we can actually get something beautiful onto the page.
Wild Writing is the very best practice that hundreds of my students have used to break through writer's block, to relax into the sound of their natural voices and to get to the heart of what they want to write about. It's also extremely healing.
Up until now, in order to Wild Write, you needed to live near me in Northern California to attend one of my classes, or get a spot in one of my small online video classes. With 27 Wilder Days, I'm bringing the Wild Writing practice to you at home through a series of short videos that will arrive in your inbox each day for 27 days. In each video I will share some delicious aspect of the practice that has served me for the last 25 years, as well as read you a poem and give you a jump off line to get you started. From there you'll write for 15 minutes, and then boom, you're done. You don't have to stay glued to the chair for an hour every day to become a better writer. 15 minutes a day is an easy, graceful start, and I think you'll be delighted by what kind of magic you're able to make.

Here are some of the things you'll learn…
How to get past the critical voice in your head and get a lot of ink on the page.
How to follow your intuition, letting it guide the words coming out of you.
How to fall into the flow of unedited writing and get a little lost.
How to land in your native voice and not get trapped in sounding writerly.
How to put some skin in the game, open the kimono and tell the truth on the page.
How to let go of the concept of good or bad writing and simply write.
How to be comfortable being uncomfortable so you can stay with the writing even when you don't like it.
How to move past journaling and into more of a story.
Questions you might have…
Will Wild Writing make me a better writer?
Definitely. Learning to write without editing is a beautiful way to find the flow and flow is what you want when you're writing.
Will you teach me anything about grammar and punctuation?
Nope. We're up to something entirely different here.
What style of writing can I do with Wild Writing?
Poetry, prose, personal essay. I have seen fiction writers use Wild Writing, but it's really great for personal writing.
Will you be looking at my writing?
Nope. It's just for you.
Can I hire you to look at my writing?
Maybe. Sometimes I do that.
Can I turn this writing into blog posts or personal essays?
You sure can. That's what I do.
Will there be a Facebook group to share the work?
Nope.
But what if I want to share the work?
Sign up with a friend, do the writing together and read to one another. Or find a loving friend who thinks you're the bee's knees and loves the sound of your voice.
Does this class have a start date?
Nope, it's self-paced. When you sign up it starts.
But what if I can't keep up with the daily emails?
No problem. You'll always have them. Go at your own pace.
Have more questions?
I'm happy to answer them. Find me at laurie@27powers.org
Wild Writing is a beautiful practice for writers at any level,
and certainly for people who have never picked up a pen and given writing a try.
I hope you'll join me for 27 Wilder Days, your Wild Writing home practice.
$69

 $59 … One Week Only!