Would you like LAURIE to read the piece to you? Click below.
Sometimes, when I don't know what to write about, when I don't have a big story and I mostly just want to stay in touch, I shake my pockets loose for the small moments that are still with me from the week to see if among the scrappy change and crumpled wrappers there might be anything worth remembering, something with a little glow, a little light…
Like…
Walking down the streets of San Miguel de Allende last week with my 23-year-old daughter Ruby, how she was wearing that billowing yellow dress with the black cowboy boots I'd just bought her, how alive and free she looked, blond hair flying, new boots clicking on the cobblestone. And that woman, the tall English woman with the bad teeth and kohl dark eyes from too much drink and too much smoke and too many late nights, the formerly gorgeous, henna haired beauty who had gone to ruin – how she stopped Ruby on the street and shouted, "Never! Never! Never doubt yourself!" she practically yelled. "And if somebody says something that makes you worry, don't listen! Never, never doubt!" she screamed, and stormed off.
Ruby – who came to the workshop broken-hearted, who's boyfriend of many years told her that one of the reasons he wanted to break up with her was so he could be with girls with bigger breasts. Ruby, who as a teenager had bought cream on the internet that promised to make her breasts bigger, Ruby who has one of the loveliest bodies I've ever seen – Ruby who is turning her grief over her small breasts into a bathing suit company for women with small breasts called Little Scoops.
And this daughter of mine who I never knew as a writer, a daughter who I assumed liked fashion more than deep talk, a girl who once dreamed of being on The Bachelor, this girl became a Wild Writer every morning. And when I asked who wanted to read, this girl, my girl, sat straight up in her chair, cleared her throat and began reading to 18 strangers, women of all ages who she'd just met. She was sad, she was brave, she let us see her, she was real. And we loved her so hard for that, everyone did.
Andrea and I loved every single moment of realness with this group of 19 women. We loved how we told them that first night that this was a come as you are party, that we didn't want their shiny, smile for the camera selves, we didn't want their flashy dossier, didn't want to know who they were married to, or what their latest accomplishment was. No, we wanted them raw. We wanted my mother, who'd left her 89-year-old lover of 9 years, Ralph, back in L.A. on hospice, not knowing if he'd be alive when she got back. We wanted the woman who was in love with the married man, the man who she was holding out for, and the uncertainty of that, the realness of that.  We wanted the woman who didn't know how many real friends she had back home in Texas, and the woman, a single parent, who was tired and burnt out, and hoping that she was doing right by her young son, that there would be enough time to be the mother she meant to be.
We wanted the moment on the first day of the five-day workshop when the 19 of us were walking down that skinny alley during the magic hour, when the light glows amber like magic dust, and I caught that picture of my mother Suzy, at 82, with Jayne, at 75, how they walked the alley with their arms around each other, walking like sisters, like lovers, like long lost friends, even though they'd only met the night before.
How in our group of 19 women, we had 7 who were in their 70's and 80's, and how they were always reaching for each other's hands as they crossed the street, kissing one another in the morning over coffee. How something about their age, something about their losses and their loves, and their real awareness of time – how fast, how swift, how blink of an eye – brought a kind of immediacy to our group. We only had four days together, no time for pleasantries and small talk, only time for loving, for reaching for one another's hand and bounding out into the streets, alive, together.
And what about that email we got from Jayne after the first night, when she wrote, "thank you for giving us a chance to be ourselves," and Andrea and I realized, shit, if that's all we do this week – give these women a chance to be themselves, we'll have done our job. Yes, we had Wild Writing every day, and photo walks every night, and there were food tours and a day where we learned how to make paper flowers, but ultimately, our job was to create a world where 19 women could be themselves. Including us. As leaders we would be ourselves.
And it was wonderful, and it was dreamy, and I ran into the 25-foot tall puppets on the street almost every day, and no matter who I was with, I ran ahead of them to catch up with those puppets, to walk the streets of an old Colonial town, to be a woman among puppets in a puppet parade.
And it was sweet, even sweeter, when my mother got back to L.A. and she went to her boyfriend Ralph's house and told me that they did some pretty nice kissing, and even though his eyes were closed, and even though he had been in bed on his back since she had left a week earlier, and even though she didn't know he'd be gone in four days' time, he smiled when they kissed. And we loved that, we all did.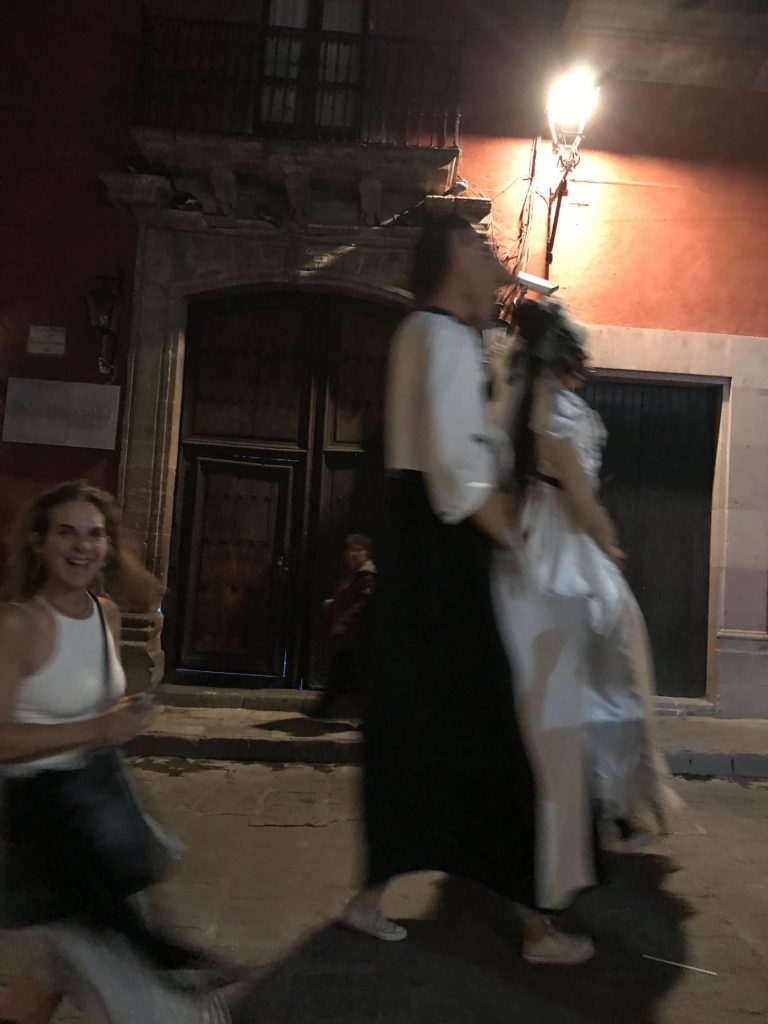 Photo credit Andrea Scher
---
Friends – we have one spot left in our Wabi Sabi writer's workshop in Nutley, New Jersey over the weekend of May 3-5. The last spot is yours here…